Vegetation-Wright Chronicles
Wright in Spearfish Canyon…"A Noble Inheritance"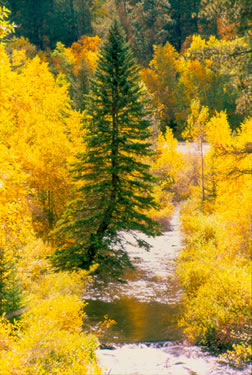 Frank Lloyd Wright (1867-1959), America's greatest architect who championed 'organic' architecture, gives a most dramatic and poetic description of the beauty of the Spearfish Canyon as seen on his trip through the Badlands and Black Hills in September, 1935.
It was early September. The Canyon was most certainly experiencing its fall chill heralding autumn's colorful palette. Mr. Wright entered the Canyon at its confluence from the north where it widens to the lush green valley floor of Spearfish.
"not very interesting at first. I have seen so many; the Western States are full of them, as everyone knows". The road here is haphazard as hazard was and is none too good."
The canyon roadway was the recent remnants of the flooded Burlington rail bed abandoned one year earlier in 1934. It was very rough, muddy and chuck-holed...a true test of endurance.
"But shortly, things began to happen". We would be headed straight for gigantic white walls tabulated (horizontal beams) in ledges from which pines sprouted and grew in precisely the manner of the pictorial dreams of the great Chinese painters, the greatest painters that ever lived. We were in the land of the Sung and Ming masters. Whoever knows their idealization of nature in the Chinese landscape painting of those great periods, and they were mostly landscapes, can see the character of the Spearfish ensemble."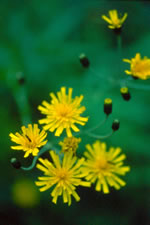 The "Spearfish ensemble" Mr. Wright referred to is the rich canyon vegetation caused by the unique convergence of four biomes. The biomes, or plant communities include: Rocky Mountain Coniferous Forest dominated by ponderosa pine, Northern Coniferous Forest dominanted by white spruce, Eastern Deciduous Forest dominated by aspen and birch, and Northern Great Plains Grassland consisting of oak and cottonwood.
.
In the 10th Century, Daoism had preached that the True Way, or Dao, was manifested in the changing forms and eternal laws of nature. The Dao was achieved through the balance of opposing yet complimentary forces, such as mountain (shan) and water (shui) the two words that form the Chinese term for landscape. The landscapes in the northern province of Song and Ming are very similar to the topography and vegetation found in Spearfish Canyon.
Mr. Wright was an avid collector of Chinese Dao landscape paintings. The Chinese artistic treaties of nature were inspiring to Wright's vision of architectural expression. Early on, Wright defined the principles for what he called "organic" architecture. Appropriate to time, place and man, an organic architecture "proceeds, persists, creates, according to the nature of man and his circumstances as they both change".
"But how is it that I've heard so little of this miracle and we, toward the Atlantic, have heard so much of the Grand Canyon when this is even more miraculous"
Obviously, the Canyon was an inspiring landscape to Mr. Wright.
"great horizontal rock walls abruptly rising above torrential streams, their stratified surfaces decorated with red pine stems carving stratified branches in horizontal textures over the cream white walls, multiplied red pine trunks and the black green masses of the pine rhythmically repeating patterns, climbing, climbing until the sky disappears or was a narrow rift of blue as the clear water poured over pebbles or pooled under the heavy masses of green at the foot of the grand rock walls."
How marvelous that the landscape hasn't changed that much in nearly sixty five years. The same visualization of canyon images is experienced today by the multitudes of Canyon travelers. Even today, with one hundred and twenty more cabin homes, and a million annual visitors traveling on a very comfortable and safe paved highway, the Canyon endures.
"Well, here was something again different. As different as could be from Bad Lands or Black Hills or anything I had actually seen, a stately exposition of what decorated walls on enormous scale can do and be. The Chinese predicted and depicted it. This continues for miles and miles without palling or growing in the least stale." We drove out , finally,... two architects drunk with primal scene painting."
Wright's Prophecy
Mr. Wright had traveled nearly twenty miles on the primitive road, certainly a bit weary, but inspired by the nature he had witnessed in Spearfish Canyon. He had passed the rugged spires at Robison Gulch, the igneous intrusion at Bridal Veil Falls, the clear waters of Squaw Creek, the three sides of the imposing Victoria's Tower, the haunting narrow gulch at 11th Hour, the rickety bridge spanning Iron Creek which a year early had flooded the railroads demise, the massive limestone high walls and thunderous Spearfish Falls at the quaint little village of Savoy, a one mile side journey, no doubt, to the picturesque Roughlock Falls in Little Spearfish Canyon, the flowering marshlands adjacent to McKinley Gulch, the railroad crossing at Annie Creek Gulch leading to the little village of Elmore, the pools of sweet water near Raspberry and Sweet Betsy Gulches, and exiting at Cheyenne Crossing.
"Unique and unparalleled elsewhere in our country"

"No, I shall be burned for a heretic when I make the statement. But, I should be thanked as a prophet and hailed as a discoverer by that jaded public who have 'seen everything' and stick to the 'through lines'. The greatest scenic wonders of the world I know now are touched on grand safe highways but not on railroads.

My hat is off to South Dakota Treasures..."

"Go to South Dakota, but drive there. It is so near to us all and yet I never knew, nor had ever heard much about its southwestern treasure house until Gutzon Borglum went out there to work and Senator Norbeck invited me to see it. I like those South Dakota folk; I want to see them all again sometime if I can"

"I hope the noble inheritance , for that is what it is, won't be exploited too much and spoiled as lesser beauty spots in our country have been spoiled and will not continue to be marred by the nature imitator with his rustic effects, piled boulders, peeled logs, and imitation of camp-style primitive gabled buildings. Nature seeds from man not imitation but interpretation".
Wright's Invitation to South Dakota
Frank Lloyd Wright was invited to South Dakota by Senator Norbeck at the urging of Huron publisher Robert Lusk, vice president of the state planning board, to consider designing a new lodge at Sylvan Lake. The lodge had burned in June of that year. Wright had envisioned a design of "simplicity and the picturesqueness", unlike the rustic log cabins that he criticized throughout the Black Hills. Mr. Wright was quoted as saying,
"So far the buildings in the Black Hills have been extremely exaggerated in rusticity of which there are enough now. This building would be entirely different in design and make-up than any building in this section".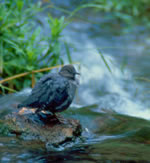 Such a design would have brought international notoriety to South Dakota. Regrettably, the Custer State Park board and Wright did not see eye-to eye. The board insisted that he immediately prepare a preliminary sketch plan for their review like any other architect who was to be considered. Wright told the board that he had a lot of other work to complete and if the board wanted one of his designs, they would have to wait in line. The board was impatient to replace the lodge, and selected one of its own, Harold Spitznagel, founder of the TSP architectural firm in Sioux Falls. Spitznagel, affectionately called " Spitz" by Mr. Wright, had escorted Wright through the Black Hills, and with Norbeck had urged the board to select Mr. Wright as the architect. Spitznagel was quoted as saying, " the board's request of Wright was insulting, like someone requesting a noted surgeon to perform an operation on a dog before they tried it on the patient." Had it not been for the disagreement between the park board and Wright, Sylvan Lake today might boast a building as famous as Fallingwater or the Prairie-style Robie House.
Frank Lloyd Wright grew up in rural Wisconsin in the decades following the Civil War and witnessed nearly a century of unprecedented technological inventions and scientific discovery before his death at the threshold of the Space Age in 1959. Wright's architectural career revolutionized residential design, lowering overall heights, eliminating basements and attics, and braking up the boxlike Victorian spaces by introducing freeflowing interiors, creating what became known as the Prairie Style. He later founded the Taliesin School of Architecture. He caught an unsuspecting world by surprise with the dramatically cantilevered Fallingwater home in Pennsylvania. He died just months before the completion of the aspiring Guggenheim Museum in New York. Recently, he was honored with the completion of the beautiful Monona Terrace Convention Center on Lake Monona a few blocks from the State Capital building in Madison, Wisconsin. He had designed it in 1938. Mr. Wright's glowing expose of Spearfish Canyon is inspirational to us all, and has elevated this landscape to a national treasure worthy of preservation and its designation as a National Scenic Byway.
Mr. Wright's letter and biography were provided compliments of the Frank Lloyd Wright Archives, Taliesin West in Scottsdale, Arizona.