Recreation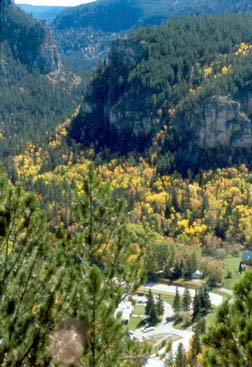 The ecology of the canyon landscape is in a constant state of flux through the natural and dynamic cycles of flood, fire, disease, and erosion. The human imprint alters the natural cycle through consumptive activities. The human imprint in the canyon landscape was first recorded around 1876 and continues to evolve as the antiquated industrial infrastructures that once fostered frontier settlement are abandoned, and recreation becomes the dominant consumptive force. Ecological values tend to dominate the primary consideration of a management plan since recreational values are dependent upon an ecological balance. To achieve ecological balance the management plan must address the constant ecological flux and the potential volume of recreational imprints.
The market for consumptive demand of public recreation of the canyon landscape is contingent on a regional pattern of travel. Typically, the source of demand for canyon recreation is generated by a regional east-west pattern of recreational travel to Yellowstone National Park. Volume of annual recreational travel is vulnerable to national economic conditions. The Black Hills is primarily an intermediate attraction dominated by the key attraction of the Mount Rushmore Memorial to the south and Deadwood gaming, Devil's Tower, and Spearfish Canyon to the north. The Needle's Scenic Byway serving Mt. Rushmore accommodates about 2M annual travelers while the Spearfish Canyon Scenic Byway hosts nearly 1M visitors. 65% of Canyon traffic is north to south. Recreational demand for Spearfish Canyon continues a trend of moderate growth that is dependent on and proportional to the popularity of the Black Hills as a tourist destination.  For tourist information, click here for Spearfish Chamber of Commerce
Canyon recreational activities are diverse. Recreational driving. Since demise of the railroad in 1933, and access to the Canyon landscape through a public roadway system, recreational driving is the primary recreational imprint and is the 'single' factor that determines all other types of recreational imprints. Recreational driving represents over 80% of all recreational activities in the nation's forests. Recreational Hospitality has emerged to accommodate the recreational traveler since 1906 with the closure of sawmills and stagelines. Recreational Residences is a major recreational activity since the abandonment of historic gold camps and the conversion of Homestake employee and Forest Service cabin permits dating to 1946. Flyfishing is a popular recreational activity since the advent of trout introduction in 1899, and continued riparian improvements including the anticipated cessation of the 1904 hydro generation system. Hunting is a recreational use though its value is limited due to roadway and building structures limiting its range. Biking along the roadway including many group events is a rapidly growing recreational activity encouraged by its recent recognition as one of the nation's top 50 scenic routes. Jogging along the roadway is a growing recreational activity, and is limited only by the narrow and competitive roadway system. Hiking is a popular and growing recreational activity through the increasing use of informal pathways through some of the side draws, and the development of numerous formal trails. Rock climbing in designated Canyon areas is growing in recreational popularity though limited by few areas providing rock stability. Snowmobiling from a designated trailhead at Savoy to an expansive nationally recognized 300 mile trail system is a growing recreational activity. Picnicking is a popular recreational activity of the canyon and a number of picnic areas have been developed to accommodate this demand. Camping is a recreational activity enjoyed by visitors to the canyon, and is limited to two (2) designated areas in Little Spearfish Canyon. Bird and Wildlife Observing is growing in canyon popularity as a recreational activity, and is best illustrated by the public's response to the arrival of a single Mountain Goat five years ago.
Recreational-Driving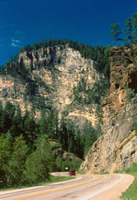 The existing two lane roadway system is adequate infrastructure to enhance and to limit the impacts of recreational driving and other recreational activities in Spearfish Canyon. The traveler is encouraged to observe the 35 MPH speed limit for safety concerns in a competing use environment. Scenic vistas of the Canyon are of primary interest and import to Recreational driving. Water flow, wildlife, trees, shrubs, flowers, fall colors, and grasses are all part of the landscape scene and an enhanced Recreational Driving experience.
Future considerations include development of numerous, strategically located, Interpretive Broadcast Pullouts (IBP) to enhance the recreational driving experience. The information will increase the visitor's appreciation and recreational enjoyment of the landscape. The five (5) designated IBPs locations within the canyon are popular scenic vistas currently providing suitable off road parking and infrastructure to power the FM broadcast interpretations. Interpretive topics would include history, geology, vegetation, wildlife, and water.
The five sites are FS Interpretive Pullout at MM 11.7, Bridal Veil Interpretive Pullout at MM 16.7, Maurice Hydro-building Interpretive Pullout at MM 18.7, Savoy Interpretive Pullout at MM 23.4, and FS Interpretive Pullout at MM 29.1. There is a 6th IBP location proposed for the city of Spearfish.
Recreational-Residences
There are 152 residences, mostly seasonal occupancy, in the canyon contour along the Byway and 52 additional homes south of Cheyenne Crossing away from the Byway along Hanna Creek. Please be respectful of their privacy and avoid trespass.
Recreational Hospitality
Canyon planning and county zoning discourages further new commercial sites in the Canyon. The three commercial hospitality facilities include RimRock Lodge, Spearfish Canyon Lodge, and Cheyenne Crossing/Wickiup/Adelphia Club. The three locations offer public facilities for 74 room rentals with potential expansion to 100, three restaurants with maximum seating capacity of 200 people, conference capacity of 220 people, two gift shops, and two small gasoline stations.  For lodging in the canyon, click here for Spearfish Canyon Lodge
Hunting
Although hunting is permitted in Spearfish Canyon, namely deer and turkey, there is limited opportunity because of state restrictions on shooting from a public roadway and within certain distances of housing, and limited accessibility to the terrain due to severe slopes and difficulty in forging the rapid creek.
Picnicking
Picnicking sites are located throughout the canyon. The Forest Service maintains to formal sites at Botany Bay and Long Valley that include tables, toilets, and litter dispensers.
Camping
Camping is encouraged at two USFS sites at Timon and Rod & Gun on FDR 222 in Little Spearfish Canyon. The sites are on a 'first come first use' basis.
Bird & Wildlife Observing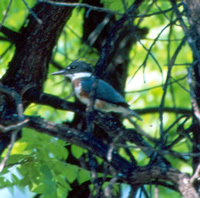 Wildlife Observing is a recreational activity growing in local popularity. The unique biodiversity of the canyon landscape through the convergence of four (4) biomes, and the resulting ecosystem sustains 130 bird species. Although gone are the Black bear, Grizzly bear, and Timber wolf from the landscape scene, many large and small mammals reside or visit the canyon. In 1917, Seth Bullock considered establishing a canyon bird sanctuary and wildlife preserve to be named in memory of his friend, President Teddy Roosevelt, who frequently visited the area.