Habitat/Wildlife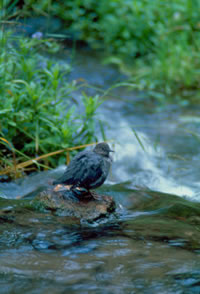 There has been no comprehensive survey of wildlife or vegetation in Spearfish Canyon. Both the Corridor Management Plan (1999) and Landscape Assessment (2002) recognize the need and recommend survey work to understand and enhance the canyon landscape.
Through the convergence of four biomes (plant communities from the Northern Great Plains Grass Region, the Rocky Mountain Forest Region, the Northern Forest Region, and the Eastern Forest Region) in Spearfish Canyon, the culmination effect is a broad wildlife population. Many species have been lost to the canyon scene like the Wolf, Black bear, and Grizzly bear. Some other species are in peril. Wildlife issues are predominantly within the jurisdiction of the South Dakota Game, Fish, and Parks Department. State policy, typically, does not encourage introduction of species, but rather re-establishing habitat to encourage the return of the species.
The most unique avian to the canyon landscape is the American Dipper.  It is at its most easterly migration, typically found in the Rockies and Sierras.  The bird is continuously studied with habitat improvements by the South Dakota Game, Fish and Parks Department.  Click for up-to-date Dipper information from the South Dakota Game, Fish & Parks Department
Presented here is a partial list of surveys conducted in the Black Hills National Forest.

Birds

 
 

American Crow

Pine Siskin

American Dipper

Prairie Falcon

American Goldfinch

Rock Dove

American Redstart

Rock Wren

American Robin

Ruby-crowned Kinglet

Belted Kingfisher

Ruffed Grouse

Black-billed Magpie

Rufous-sided Towhee

Black-capped Chickadee

Sapsucker:

Brewer's Blackbird

 

Red-naped Sapsucker

Common Yellowthroat

 

Yellow-bellied Sapsucker

Dark-eyed Junco

Sparrow:

European Starling

 

American Tree Sparrow

Eagle:

 

Chipping Sparrow

 

Bald Eagle

 

House Sparrow

 

Golden Eagle

 

Song Sparrow

Flycatcher:

Swallow:

 

Dusky Flycatcher

 

Cliff Swallow

 

Least Flycatcher

 

Tree Swallow

 

Olive-sided Flycatcher

Turkey Vulture

 

Western Flycatcher

Warbler:

 

Willow Flycatcher

 

Orange-crowned Warbler

Great Horned Owl

 

MacGillvary's Warbler

Hawk:

 

Tennessee Warbler

 

Cooper's Hawk

 

Yellow-romped Warbler

 

Red-tailed Hawk

 

Yellow Warbler

 

Sharp-shinned Hawk

 

Wilson's Warbler

House Finch

Western Wood-pewee

Mallard

White-breasted Nuthatch

Mourning Dove

White-throated Swift

Northern Flicker

Wild Turkey

Northern Oriole

Woodpecker:

Ovenbird

 

Downy Woodpecker

Phoebe:

 

Hairy Woodpecker

 

Eastern Phoebe

 
 
 

Say's Phoebe

 
 
Wildflowers

 
 

Alfalfa

Holly Grape

American Vetch

Hounds-Tongue

Arnica

Liverworts

Bedstraw

Meadow Anemone

Bergamot

Meadow Rose

Bicknell Geranium

Monk's Hood

Black-eyed Susan

Mountain Thistle

Bluebell

Mullein:

Butter-and-Eggs

 

Common Mullein

Catnip

 

Yellow Mullein

Clover

Nettle:

Common Burdock

 

Marsh Hedge-Nettle

Common Lilac

 

Stinging Nettle

Common Yarrow

Ox-Eye Daisy

Cow Parsnip

Prairie Groundsel

Curlydock

Raspberry

Currant

Red Baneberry

Dandelion

Rudbeckia

Fairybells

Southern Shootingstar

Field Mint

Spikenard

Fleabane:

Spotted Coralroot

 

Low Fleabane

Starry Solomonplume

 

Three-Nerve Fleabane

Forget-Me-Not

Fringed Loosestrife

Goldenrod:

 

Canada Goldenrod

 

Gray Goldenrod

 

Missouri Goldenrod

 

Showy Goldenrod

 

Stiff Goldenrod
Wildlife

 
 

Beaver

Marmot

Bobcat

Mink Muskrat

Chipmunk

Pocket Gopher

Cottontail Rabbit

Porcupine

Coyote

Raccoon

Deer:

Skunk

 

Mule Deer

Tree Squirrel

 

White-tailed Deer

Waterfowl

Fox

Weasel
Vegetation

 
 

Trees:

Shrubs:

 

Aspen

 

Chokecherry

 

Boxelder

 

Elderberry

 

Narrowleaf Cottonwood

 

Gooseberry

 

Oak

 

Snowberry

 

Paper Birch

 

Red-osier Dogwood

 

Ponderosa Pine

Grasses:

 

Spruce

 

Kentucky Bluegrass

Willow:

 

Orchard Grass

 

Beaked Willow

 

Timothy Grass

 

Yellow Willow

 
 
Fish

Brook Trout

Brown Trout

Rainbow Trout

 

Rocks

Limestone

Sandstone