News Updates
February 10, 2012
The Kick Start from the Foundation
"Without the financial kick start from the Spearfish Canyon Foundation, this project would never have gotten off the ground."
– Bruce Outka, Deputy State's Attorney for Lawrence County.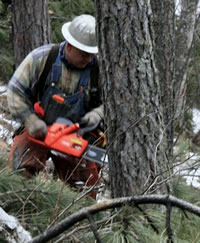 Recently, we've been sharing the progress of the major fundraising campaign that has been initiated by our group - the Spearfish Canyon Foundation. In December, the Foundation presented the first of five $25,000 checks to the Lawrence County Commissioners to be used to fight the mountain pine beetle epidemic in the northern Black Hills.
That $125,000 pledge from the Foundation has sparked the interest of other organizations and private citizens who also want to do their part to save the region from deforestation. As other donations have been received, they have been going directly toward the unique project that is currently underway in and around Spearfish Canyon.
In case you've missed the project details previously, the overview is as follows:
Much of the land in the Spearfish Canyon area is managed by the US Forest Service. An unfortunately large portion of the trees on that land are infested by the damaging mountain pine beetle. The US Forest Service has entered into an agreement that permits Lawrence County to actively "cut and chunk" green, mountain pine beetle-infested trees on US Forest Service-managed land. The small sections of cut-up ponderosa pine then quickly dry out, killing the beetles embedded inside.
It's a unique agreement that is the only one of its kind currently in existence in the United States. A timber-cutting agreement of this type is noteworthy because the US Forest Service has never granted a non-federal organization to assist in forest management procedures in this way.
Most people in the northern Black Hills region have heard bits and pieces about this project around the water cooler or from various local news stories, but few really understand the scope of the whole thing.
So, to help put the project in perspective, here are a few of the stats about this one-of-a-kind undertaking:
| | |
| --- | --- |
| 800,000+ | Estimated number of ponderosa pine trees in Lawrence County  that may already be dead or currently infested by the mountain pine beetle |
| 3,000+ | Acres in Lawrence County that already have trees infested by mountain pine beetles |
| 53 | Number of Lawrence County-hired sawyers (qualified subcontractors with chainsaws) who are hard at work cutting and chunking beetle-infested trees |
| $14.65 | Average cost to remove one beetle-infested pine tree through this effort |
| 1 | Number of people that it takes to make a difference in this project. Will it be you? |
Even with the current financial support of the Spearfish Canyon Foundation and others, this crucial project needs continued funding. Your donation of any size will make a difference. Please use the yellow DONATE buttons found throughout this site, or mail your gift to the Spearfish Canyon Foundation at PO Box 512, Spearfish, SD 57783. Thank you for your generosity and for helping to save Spearfish Canyon.